He's the first man I fell in love with. He's the one who would play hide-n-seek with my sister's and I. He's the one who would join in races with us. He's the one who would deliberately hurt himself whenever I got hurt, so I would not have to be in pain alone.
He's the one who taught me to not make fun of others for I did not know the road they have traveled.
He's the one who taught me that there is no shame in a man that provides for his family, regardless of his job description.
He's the one, the only I would let console me, the first time a guy broke my heart.
He's the one who gave me away the day I married the one chosen.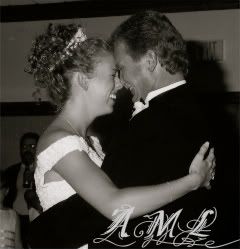 He's the one who, when it was just he and I, cried when my mom was battling breast cancer. He didn't want to lose her. He wasn't ready to live this life without her.
He's the one who, when everyone else was casting their first glances at my first born, came right up to me and gave me a kiss on my forehead and told me he loved me.
He's the one who, when I gave life twice and then said goodbye, took Emmerson and Vivienne, held their heads with one hand, and their bodies with the other, took them over to the light to examine them and talk to them, just like he had his previous seven grandchildren. It touched me that he did that. He treated them just the same. With that action, he was saying that they were his. That he loved them just the same. And then I saw his shoulders shake as he sobbed.
He's the one whose shoulders so many of my tears have fallen.
He's the one who caught me when I fainted at Emmerson and Vivienne's funeral.
He's my dad.
He's the one who truly gets my sense of humor because it is his.
He's the one who is funny and makes my sisters and me laugh.
He's the Harley Rider and the coffee drinker.
He's honest when he is not joking around and he apologizes and admits when he is wrong.
He's a big heart of compassion.
He's the one who suffered a descending aortic aneurysm a year and a half ago. The first time he experienced the excruciating pain, the doctors dismissed it as a gallbladder attack and shortly thereafter, he had it removed. The second time the pain hit, a month later, my mom rushed him to a nearby hospital and later was life-lined to another. When my mom asked if everything would be alright, a nurse told her that they didn't think he would survive the five minute flight.
He's the one who did survive that flight. He's still here with us.
Tomorrow he will be cut open front to back and have a five to seven inch area of his aorta repaired. Actually, replaced. He will be in surgery for at least six hours.
I am the one who is scared. I know at any given moment these past 18 months, he could have died doing a simple everyday task. But it is now, that I am ever so fearful.
I don't want to lose my dad just yet. I know there will come a time when I will have to walk this earth without him but I am not ready for it to be now.
I know I need to trust His ways. But I am pleading with my King to protect my dad. To leave him here with us for a little while longer.
He's the first man I fell in love with. He's the one who has always been there. He's my dad.
Stephanie