It's one of those Fridays where I join Gypsy Mama in writing for five minutes straight. No editing, no previewing, no proof reading. Just writing.
Today's topic:
Tender
Go!
Soon after my husband and I married, my Uncle, one of my most favorite people in the world, said, "
He's one of the most gentle men I have ever known.
"
He was speaking about my husband.
My husband, the tender one.
He is also one of the kindest men I know. He would give his left arm to help a total stranger. He always wants to help and give where he can. Not because he wants to be a hero, but because that is just who he is.
He has always been sweet . . . tender with me. He really has no idea how to be mean.
I always knew him to be sweet and kind and gentle but I didn't know the extent to it until I witnessed him with our first born. He treated her and still does, as a delicate flower. All of the things he does with her and for her are purposeful and kind and tender.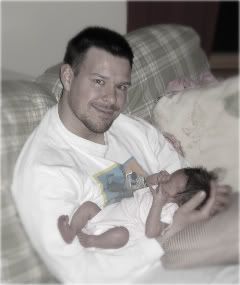 I was blessed to be able to witness that tender spirit with
Emmerson and Vivienne
. How he loved them while they were with us. How he talked to them and told them stories. How he told them the things he would have done, as their father, for them. How he told them, with a soft, tender kiss, that he loved them, and always would.
He has no idea how to be mean or rough or harsh. Every motion, every word, every thought, is a tender one.
Stop!
Stephanie